This is my first blog tour, and I am super excited to be part of the blog tour for
The King Scrolls
by Jaye L. Knight! This is the second book in the Ilyon Chronicles, a fantasy six-book series :). So, without further ado, I present to you, Jaye L. Knight!!!
Thank you for joining me on my blog, Jaye!

What was your favorite part about writing The Kings Scrolls?
This is actually a very tough question because there are quite a few parts I loved about this book in particular. I got to introduce cretes and dragons into the series for the first time, which was awesome because they're both so much fun to write about. And there are a few new characters introduced who I really love. But if I had to narrow it down, I think my favorite part was the sibling interaction in the story. Kyrin and Kaden's brothers have a much bigger part in this book than in the first one. I loved getting to know them better and seeing how they all interacted with each other.
With the second book in the Ilyon Chronicles out for your readers, are you excited or nervous at their responses?
Both. It's incredibly exciting to release a new book, but, even after all these years I've been writing, it's still scary. I don't think I'm quite as nervous as I was for Resistance though. It helps to have an established fan base for this release. But then, of course, that gives you the fear of wondering if the book will live up to expectations and be as good as the first. So there will always be nerves with every release. :)
What inspired you to become a publishing author?
J.R.R. Tolkien. I have been writing since

was eight years old, but it was just after I discovered The Lord of the Rings at thirteen that I realized I actually wanted to be an author. I loved LOTR so much that I wanted to share my own stories like that.
What was your favorite childhood book?
I can't pick a specific book, but I absolutely adored the Pony Pals series by Jeanne Betancourt. I can't think of anything at that time that I loved more. I was pretty horse crazy during my early years. Actually, the very first story I ever finished writing was my own version of one of the Pony Pals books.
What is your favorite thing to do when you aren't writing?
Probably watching movies or TV shows with my family. I really love good movies. The visual inspiration really gets my imagination working. Even more than reading, I think. So it's actually a very important part of my writing as well.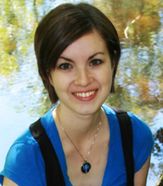 Jaye L. Knight is a 26 year old independent author with a passion for writing Christian fantasy and clean new adult fiction. Armed with an active imagination and love for adventure, Jaye weaves stories of truth, faith, and courage with the message that even in the deepest darkness, God's love shines as a light to offer hope. She is a homeschool graduate and has been penning stories since the age of eight.

~Ps. 46:10~
Visit her blog:
http://jayelknight.blogspot.com/
Website:
http://www.jayelknight.com/
Facebook:
https://www.facebook.com/jayelknight
Twitter:
https://twitter.com/jayelknight
Pinterest:
https://www.pinterest.com/jayelknight/
Ilyon Chronicles: Resistance: Buy
HERE
Ilyon Chronicles: The King Scrolls: Buy
HERE
Enter this awesome giveaway to receive a copy of
The King's Scrolls,
as well as some other great stuff for readers and writers! I cannot quite figure out how to add a giveaway (not much of a tech person), so
HERE
is the link to Jaye's blog where you can sign up.
Items for giveaway

Haven't visited Ilyon yet or just another epic copy? Get
Resistance
for 99 cents during this special occasion!
To see the rest of the blog tour for
The King's Scrolls
release, visit Jaye's
blog
to see the schedule.